Explaining the "Closing the 'quantum supremacy' gap" Paper
Background
---
Tensor Networks
---
Background knowledge
One-dimensional quantum state
White squares represent each tensor
Lines coming from each tensor represent the index (like

) of the tensor
If the same lines are joined, the inner product is computed for that index
When applying a 1-qubit gate, the value of

, the range of the sum of

, does not change.
When applying a 2-qubit gate, the value of

, the range of sums of the corresponding indices (

in the example above), doubles.
Two-dimensional quantum state
Dependence of tensor network calculations performance
Example (ladder tensor)
Order by
a_1, a_2, a_4, a_3
Order by
a_2, a_5, a_8, a_3
Methodology of the 300-second paper on quantum s
upremacy
Overview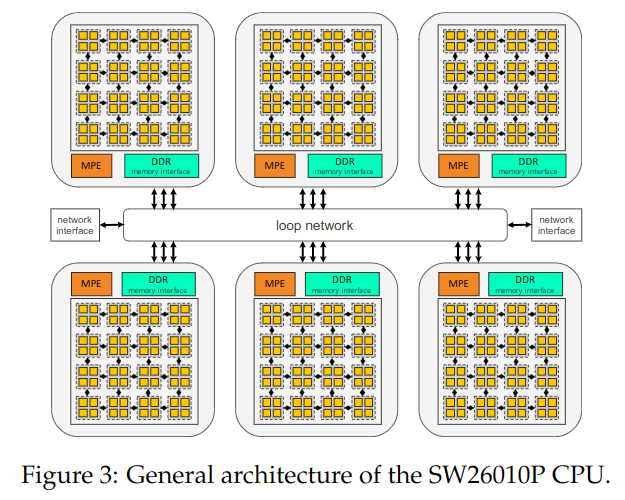 The task of taking the sum of the indices on the tensor network must be divided so that the above CPUs can be run in parallel without waste.
Consider how to efficiently sum the indices not only for lattice-like qubits but also for arbitrary topology.
Methods
Optimization of sum order by heuristics
When calculating the sum of tensor indices, the elements to be calculated are extracted by DMA (Direct Memory Access) to optimize memory access, and then the tensor calculation is performed.
Since there is a difference in the shape of the tensor when CoTenGra is used, a different method for optimization

*13

is used to convert the tensor to a form that is easy to optimize. The conversion is performed in a form that is easy to optimize.
Since single-precision floating-point (32-bit float variable) causes a bottleneck in calculation speed, after evaluating errors and confirming that there are no problems, calculations were performed using a mixture of half-precision floating-point (16-bit float) variables, and FLOPS were increased approximately 4 times (from 1.2Eflops to 4.4Eflops ).
Results
Summary and Comments
Proposed a method to compute in parallel on a supercomputer by converting the difficulty of spatial computational complexity into sequential computational complexity by slicing.
Heuristics methods to compute efficient tensor summation order were introduced.
Various other optimizations related to memory access were introduced.
References